DO IT YOURSELF INSTRUCTIONS
All airbag switches come with complete step by step instructions on how to safely install.
INSTALL ALMOST ANYWHERE
Equipped with universal mounting brackets and optional remote lights allows installations in glove box areas and more.
All SWITCHES MEET FEDERAL REQUIREMENTS of the National Highway Traffic Safety Administration (NHTSA)
NO GOVERNMENT FORMS NEEDED
when installing an airbag On/Off switch yourself.
EXAMPLE OF INSTRUCTIONS
To view an example of switch installation instructions.
CLICK HERE.
PRICING
An ON/OFF switch kit is $199.00 ADD and an additional $26.00 if a remote light is required. Discount Prices apply for Police Departments and companies working with multiple vehicles.
For additional questions or comments please send us an email.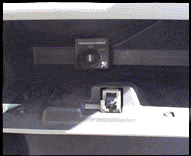 Federal Law requires remote display lights used when mounting in glove compartments.